This article is part of our DFS College Basketball series.
Today's college hoops slate is a smaller group of games featuring a few notable teams, including an appearance by the Iowa Hawkeyes. Surprisingly, as of Wednesday evening, Iowa isn't involved in the highest over/under game on the board. That honor belongs to the battle in the desert: Arizona at Arizona State.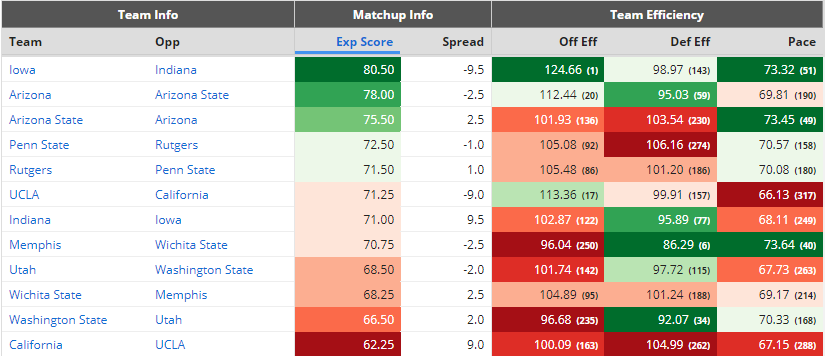 Targets
Azuolas Tubelis, F, Arizona ($7,300 DK, 6,300 FD)

The Wildcats are expected to put up close to 80 points tonight, so they're a great starting point for filling out your lineup. Tubelis uses the most possessions on the team when he's on the court so he should have a significant role in the scoring output when it's all said and done. The other reason why I like Tubelis today is because he's arguably the best rebounder on the team. The Sun Devils have the worst offensive rebounding rate in the Pac-12, in addition to having the second-worst defensive rebounding rate. Tubelis could provide a lucrative return given the significant matchup advantage.
Luka Garza, F, Iowa ($10,200 DK, $9,300 FD)

I'm doing it. I'm going with Garza. His salary is enormous but so is his potential. Indiana's defense is no joke but then again Iowa has the No. 1-ranked offense in the country in terms of adjusted efficiency so it might not matter. Indiana's defense is ranked similarly to last year's team which is interesting when considering what happened when they played Iowa a year ago. When these two teams played at Assembly Hall last season, Garza scored 38 points to go with eight rebounds and four blocks while playing all 40 minutes in a 77-89 loss to the Hoosiers. Indiana returns two of the same frontcourt players from a year ago (i.e. Jackson-Davis and Thompson) so I'm thinking Garza has a shot at a repeat performance. Garza and the Hawkeyes also might benefit from Indiana's perimeter defense. Through seven conference games this season, Indiana is last in the Big Ten in guarding against three-pointers while Iowa has the best offensive three-point rate in the conference. Garza is shooting 48 percent (23-of-48) from behind the arc this season. All in all, Garza seems like a solid bet today, especially on a shorter slate of games.
John Harrar, F, Penn State ($5,400 DK, $4,700 FD)

This one might seem a bit random but it's all about the matchup. Rutgers is giving up offensive rebounds at the second worst rate in the Big Ten since conference play started, while Penn State is collecting offensive rebounds at the best rate in the conference in the same span of time. This is due in large part to Harrar, who has actually has the number one offensive rebounding rate in the Big Ten, and also the tenth best rate in the entire country among qualified players. Harrar's biggest hurdle in this game will be avoiding foul trouble. He's currently committing 5.2 fouls per 40 minutes, so that's certainly a cause for concern, but his salary is low enough to the point that it's less of an issue. This past Sunday at Purdue, Harrar scored 37-plus fantasy points, so he's capable of having an extremely productive game as long as he can stay on the court.
DraftKings Exclusive
Jules Bernard, G/F, UCLA ($6,500)

UCLA's offense is currently ranked best in the Pac-12 in terms of adjusted efficiency while Cal's defense is ranked second worst. Safe to say it's a good idea to pick a Bruin or two. Additionally, UCLA's making three-pointers at the best rate in conference play while Cal's defense is the worst against three-pointers in the conference. Bernard and Jaime Jaquez are the two best long-range shooters on the team, so either one (or both) should get plenty of open looks in this game if Cal allows history to repeat itself.
Fades
Josh Christopher, G, Arizona State ($8,000 DK, $7,200 FD)

Fully prepared for this one to come back and bite me but here we go anyway. Arizona State's offense ranks comparably to Arizona's defense, so there doesn't appear to be any noticeably matchup advantages for Christopher. The five-star freshman has enough talent to prove me wrong, but his salary is rather high considering he's only had four games all season with 27-plus fantasy points. Christopher has been somewhat inconsistent from a fantasy standpoint throughout the season, and he also has one of the lowest offensive ratings among Arizona State starters. Christopher offers slight upside as a talented player, but in my opinion carries too much risk in today's matchup.
Ty Etienne, G, Wichita State ($7,900 DK, $7,900 FD)

Etienne is the best player for the Shockers and a great player all-around, but today he has the unfortunate challenge of facing a Memphis defense that's ranked No 11 in the country in terms of adjusted efficiency. Etienne leads the team in both usage rate and minutes, so this fade will sting if the Shockers play a good game. Wichita State has the lowest projected point total on the common slate of games so we'll see if the Shockers can prove me wrong.
Race Thompson, F, Indiana ($6,700 DK, $6,700 FD)

I don't normally put Iowa opponents in this section but today we have an exception. The Hawkeyes' defense is playing better lately, partially explaining why Indiana is only projected to score around 70 points tonight, one of the lowest numbers among teams in the common pool of games. Iowa has a stronger interior defense and this might pose a problem for Thompson because he's not as effective from the outside. He's only made three shots from behind the arc all season. Thompson might prove me wrong if Iowa no-shows, but ultimately I'm assuming the pre-game projections are reasonably accurate. We'll see.
The author(s) of this article may play in daily fantasy contests including – but not limited to – games that they have provided recommendations or advice on in this article. In the course of playing in these games using their personal accounts, it's possible that they will use players in their lineups or other strategies that differ from the recommendations they have provided above. The recommendations in this article do not necessarily reflect the views of RotoWire. Steve Peralta plays in daily fantasy contests using the following accounts: FanDuel: Buddusky, DraftKings: Buddusky24.