This article is part of our The Armband series.
It's another normal week of MLS Fantasy outside of the best player (top scorer) not playing. Atlanta are on bye, which means everyone can't flock to Josef Martinez, who scored 15 fantasy points on the road last weekend and has at least 11 in six of his last seven matches. It's a stat no one else in the league can come close to. He leads the league in fantasy scoring despite a slow start when he didn't score more than eight points in 12 of his first 13 appearances.
Week 24 is all about everyone else, or most likely Zlatan Ibrahimovic, Diego Valeri and Nicolas Lodeiro, who are in the most favorable spots for the armband. The Galaxy and Timbers take on two of the worst defensive sides in the league, as both Minnesota and Vancouver have allowed 29 road goals, with the Loons playing two fewer matches (10). That should lead to at least two goals for both Los Angeles and Portland.
Ibra is the clear option for the Galaxy, with appearances on the score sheet in each of his last eight starts, including multiple goals four times. At this point, it's best to assume Ibrahimovic will be involved in a goal, similar to Martinez. Romain Alessandrini is in a tier just below, mainly because his upside isn't as high. A defender could be backed for a clean sheet, but then you'd be counting on the Galaxy to stop Darwin Quintero, which no one has been able to do lately.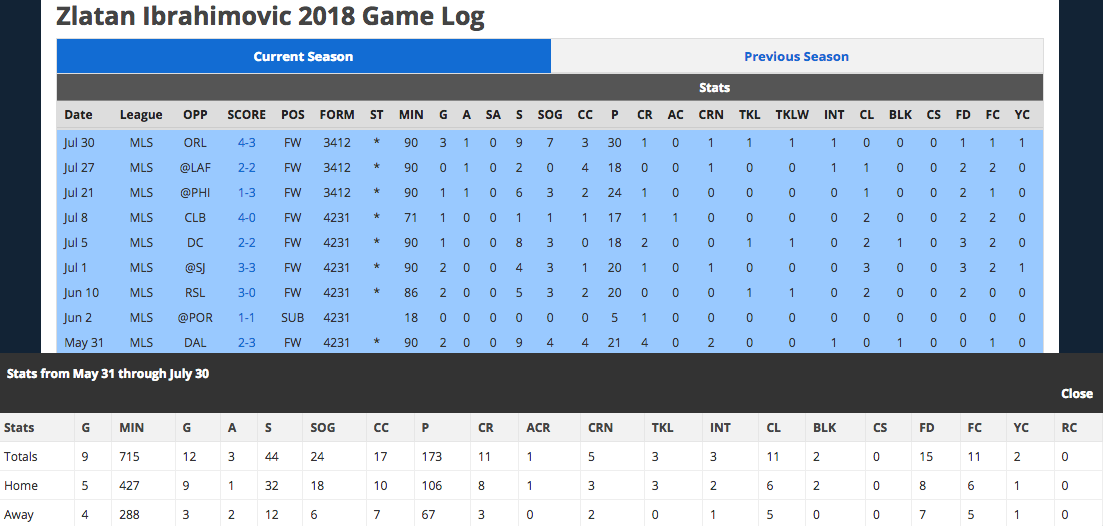 As for Valeri, he's been slightly less consistent than Ibrahimovic, but it's almost a guarantee he makes the score sheet in a favorable home match. He has two goals and four assists in his last four opportunities at home. The downside is that the Whitecaps have looked better in recent matches, drawing 2-2 in NYC last weekend and only allowing three goals in their previous two on the road. There's little reason to trust anyone other than Valeri for the Timbers, unless you think Samuel Armenteros will grab another brace.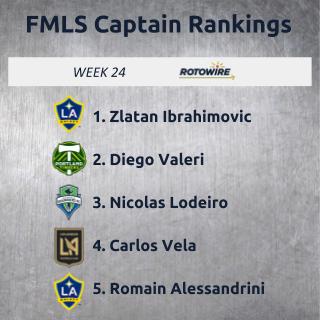 Nicolas Lodeiro isn't far behind, and he's only in another tier because Dallas have been a competent team for most of the season. Outside of the weird home loss to San Jose, Dallas have one of the best road records in MLS with only 14 goals allowed. In all, they've allowed 28 in 22 matches. That's only a slight worry for Lodeiro, who racks up more bonus points than almost anyone in the game. It leaves you with a nice floor, though you'd still like a goal or assist so he can hit double-digit points, which he's done in three of his last four. Similar to the other teams, there isn't much else to consider unless you want someone with a slightly lower floor (Cristian Roldan) or a goal-dependent player (Raul Ruidiaz).
There are others to consider, but those three players are the best places to look. Gyasi Zardes is usually good for a goal at home, but his lack of bonus points hurts him this week, and he needs to score twice to be relevant. The same goes for Real Salt Lake (v. MTL), as guys like Joao Plata and Albert Rusnak are hard to trust. Damir Kreilach stole the spotlight last week with a brace, but no one will captain him.
LA FC make the most sense if you're looking for another team to back, mainly because of Carlos Vela. The Mexican is always good for at least five points, though the upside hasn't been there since he returned from the World Cup. There's also the question of how Kansas City will play. After giving up multiple goals in eight consecutive matches, they held the Dynamo scoreless in Houston last Saturday.
The Toronto and NYC match should produce goals, but Sebastian Giovinco isn't the same player he was last year, at least fantasy-wise, and backing Maximiliano Moralez in this game is difficult. Both guys could make the score sheet and be around 10 fantasy points, but the upside you get with Ibrahimovic isn't there. I'd throw Yamil Asad into the same category at home against Orlando, yet every other time I've backed him, he's disappointed.