This article is part of our The Armband series.
There appeared to be numerous captain options last week, but it turned out only one player made sense. Carlos Vela was one of just seven who reached double-digit fantasy points, and he managed an incredible 27 points, 15 more than Cristian Penilla, the next highest. Of course, while I ranked Vela first, he wasn't my captain, and from looking at the point totals, he wasn't the top captain in MLS Fantasy.
Week 34 looks easier on the surface because multiple teams have two matches, but in the last double gameweek, a lot of single-game players outperformed the supposed easy captain options. That could be the case again given the quality of teams with two matches.
Orlando City have two home games (v. SEA, v. CLB), but you'll be hard pressed to find anyone who gives the armband to one of their players. Dom Dwyer hasn't surpassed three fantasy points in his last four starts and Yoshimar Yotun likely won't be available for both. Vancouver (v. SKC, at LAFC) are another team to avoid due to schedule, even though Kei Kamara has made the score sheet in six of his last seven starts. I'm also throwing Sporting Kansas City in the 'teams to avoid' group with two road matches (at VAN, at DAL) and it doesn't help all of their top fantasy options are defenders.
That leaves four teams with two matches worth considering for captaincy. Seattle have the toughest schedule as they travel to Orlando and then Houston in the matter of a few days. The good news is neither of those teams have anything to play for and should be ripe to allow multiple goals, plus Seattle just scored four against Houston. There would be no question about Nicolas Lodeiro, who has one goal and three assists in his last two starts, but he's traveling from Japan to Florida in 36 hours. Plus, he has just 11 total fantasy points in his last three road matches. Cristian Roldan is at least worth a roster spot, while I'm not sure Raul Ruidiaz will start against Orlando if he plays for Peru on Tuesday.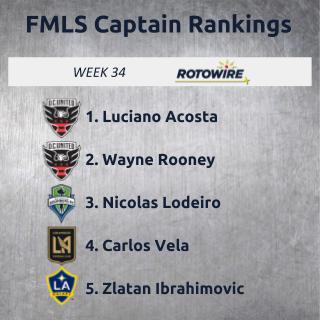 The best team to back for the week is D.C. with two home matches (v. TOR, v. NYC) against beatable competition. Toronto have nothing to play for and just lost at home to Vancouver, while NYC FC have allowed two goals per match on the road, and that may be their downfall in the playoffs. The top guys didn't perform last game, but I'm still fine with captaining Luciano Acosta and Wayne Rooney, especially with two matches. As I said last week, Rooney will be the more popular play, and he should be, with 15 shots in the last two matches, but Acosta is creating more chances from the wing and is still getting a few shots each contest. Acosta makes more sense as a differential captain because he'll be the second-most popular captain on his team. With the best chances for clean sheets, D.C. defenders could be looked at if you're crazy. Steve Birnbaum is the most expensive choice, though Frederic Brillant has had a floor around five points in the last four matches. Either way, Brillant is a must-own defender in lineups given his price ($6.5m).
Sebastian Giovinco is in the captain conversation only because of name, but I'm not sure he'll start both road matches (at DC, at MTL) with nothing to play for. I'm more willing to back Real Salt Lake, who are in need of three points from both of their matches (v. NE, at POR). The Revs are out of the playoff picture and have to travel across the country after losing their last two on the road by a combined 6-1 score line. Going to Portland won't be easy, but Salt Lake could easily beat New England by three or four goals. They aren't playing well, but this is the kind of thing worth betting on late in the fantasy season. Albert Rusnak makes the most sense for the armband after going three straight matches with double-digit fantasy points a month ago, while Joao Plata has the same upside yet a lower floor. Unfortunately with RSL, you may only be betting on getting major points from the Revs fixture due to the trip to Portland, plus both Rusnak and Plata aren't even guaranteed to start both games because they've been away on international duty.
Since the double gameweek options are sparse, there are other places to go for the armband. Atlanta are in a good spot against Chicago, yet Miguel Almiron is hurt and Josef Martinez hasn't scored in the last three. I'm more comfortable backing Vela and LA FC even though Vancouver still have something to play for. Vela showed he could produce in a huge way last match and there's no reason not to back LA FC, as they've outscored their opponents 11-3 in their last five home matches.
Portland have been hard to trust, but with multiple goals in three of their last four at home, Diego Valeri at least deserves a look. Otherwise, there aren't many others to throw into the mix outside of the chosen one, Zlatan Ibrahimovic. The Galaxy need three points and face a Minnesota team that just lost 2-0 at home to Colorado. The last two matches scream back-to-back hat tricks for Ibrahimovic as he leads the Galaxy into the playoffs.