This article is part of our The Armband series.
The first two months of the season have been anything but predictable, yet one player has quietly become the Mohamed Salah of the early campaign. Eden Hazard, playing in a new system under Maurizio Sarri, has scored or assisted in all but one match. He assisted off the bench after being rested the first two games following the World Cup, and has scored seven goals in six starts. Plus, he still has four matches before Chelsea will be listed as an underdog, and that means he should be a top captain until then.
Normally, I wouldn't go against Manchester United, but Hazard already scored at home against Liverpool and the Red Devils have given up multiple goals to Newcastle and West Ham in their last two league matches. Don't expect that to change, as not only did players like Paul Pogba play a full 90 minutes over the international break (Hazard played 45 on Tuesday), but Man United also have to host Juventus next Tuesday. Hazard is averaging 3.59 shots and 2.96 chances created per 90 minutes and should be near those numbers again, though no one else on the team is worth the armband.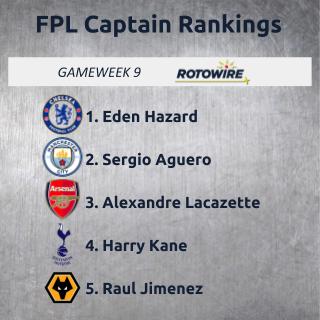 Manchester City will be the team everyone looks to with a home match against Burnley, a side that's allowed a league-high 161 shots. Sergio Aguero is the clear option up front since he didn't play for Argentina over the international break, and the same goes for David Silva and Spain. The bigger question about the City lineup is whether Kevin de Bruyne returns to the mix, and that could make things even harder to predict. At the least, Aguero should start and he's made the score sheet in four of his last five league starts. If you believe in Benjamin Mendy again, this is a perfect spot for him to pickup a bonus point and clean sheet.
The other side that stands out is Arsenal, who won their last nine matches in all competitions and face an unreliable Leicester back line. Alexandre Lacazette has turned into the Gunner to own with four goals and two assists in the last five matches, though Pierre-Emerick Aubameyang should return to the starting XI, as Danny Welbeck is dealing with a hamstring issue. Lacazette is still the only safe option since he's easier to trust than Aubameyang, but it's worrying that he's not getting a ton of opportunities. Lacazette has scored on his last three shots on target and only has one chance created in his last three starts.
A trip to Huddersfield looks like a perfect time for Salah to regain his form, only because he's battling a muscle strain and no one is expecting it. The other problem is that Sadio Mane broke his thumb and his status isn't guaranteed, either. Not only that, but Mane hasn't made the score sheet in his last six club appearances. It makes sense to assume Roberto Firmino could get all of the goals, but he played 90 minutes on Tuesday against Argentina in Saudi Arabia. Salah is still the top option if he plays, but there's plenty of risk and Huddersfield aren't allowing many goals at home (six in four matches).
West Ham (v. Tottenham) are another side that play super defensive at home, with just four goals allowed in four tries, and they are the only ones to keep Hazard off the score sheet. Harry Kane will undoubtedly get his opportunities, but he's another guy who played full minutes over the break and may not be at his best.
This is the perfect week for a differential if none of the other options interest you. Everton stand out the most at home against Crystal Palace because of Richarlison and Gylfi Sigurdsson. Both played over the break and Palace have allowed just nine goals, but it's hard to ignore recent results in which Sigurdsson has 10 shots and nine chances created in his last two matches. Richarlison only has six and two, respectively, in that stretch, but he's still worth a note.
Wolves have the better matchup, according to the numbers, since Watford have fallen apart and lost their last three matches by a combined 8-2 score line, with the most recent one a 4-0 home loss to Bournemouth. Wolverhampton defenders have stood out in recent matches, but Raul Jimenez has quietly made the score sheet in his last four starts and has 13 shots and nine chances created in that period. If Wolves are to score, Jimenez is most likely to be involved. Of course, Jimenez played 90 minutes in Mexico on Tuesday, so that's another issue.
Bournemouth are last but not least on the list with multiple goals in three of their last four. The main debate is between Callum Wilson and Joshua King, and it's a mystery as to who is the better captain choice. Wilson often plays as the lead attacker, but he has only six shots and seven chances created in the last four matches. Meanwhile, King serves as the penalty taker and has more shots (seven) and one fewer chance created in that period. Wilson may be more popular because he got out to a quick start, but King is on the ball more and is slightly easier to trust.