This article is part of our The Armband series.
Gameweek 10 was a little easier to predict, and that's seen in the 58-point average, the second-highest mark of the season. As expected, Mohamed Salah and Sadio Mane were involved plenty, Marcos Alonso had another double-digit performance and Pierre-Emerick Aubameyang outperformed Alexandre Lacazette again. Kevin De Bruyne returned in Champions League play, but since Man City are stocked, he came off the bench for Sergio Aguero at Tottenham on Monday.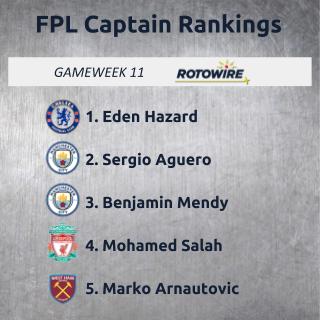 Man City face a Southampton side coming off back-to-back scoreless draws, and they already lost 3-0 at Liverpool. The problem is still the same when captaining anyone on City in that you never know which players will start. Sure, Aguero has started every league match, but he also hasn't made it more than 71 minutes in his last six. That's an issue that limits his upside and also makes Raheem Sterling a little more enticing at times, even though he has just one assist and two shots on goal in his last four starts. David Silva has surprisingly turned into City's most consistent starter, getting the call in the last six matches in all competitions, producing five shots on goal and 23 chances created. It feels a little weird captaining a 32-year-old Silva, but Pep Guardiola feels safe with him in every lineup for a reason. If you don't want to risk your captain getting benched, Benjamin Mendy is in another good spot for a clean sheet, and he has a chance created in every start but the ones at Tottenham and Liverpool. Either way, Southampton have just three goals in five road matches.
Chelsea are the other team everyone will have their eyes on against a Crystal Palace side has five away goals this season, including two at Fulham. If Eden Hazard was fully healthy, he'd be a no brainer at the top of the list, but he may not reach a full 90. That said, he's hard to pass up when he starts, with almost one goal per 90 minutes to go with 1.48 shots on goal and 3.37 chances created. If you believe in Ross Barkley because he's been awesome in recent matches, he's the next guy in play for the armband. Alonso may be the safer bet with great clean-sheet odds, and he had a couple more bonus points last match.
There are few other places to turn for the armband, with Arsenal hosting Liverpool, Manchester United at Bournemouth and Tottenham at Wolverhampton. That said, I'm not completely sold on Arsenal's back line, which just gave up two goals at Crystal Palace, even if both were from the penalty spot. They've been better at home, but a lot of that has to do with competition. Salah deserves consideration on name alone, and he's been on fire with four goals and two assists in his last three starts in all competitions.
I'm still avoiding every Red Devil, while Spurs are in a similar situation. They're lacking form, with just two goals in the last three league matches and drawing 2-2 at PSV isn't a great feat, either. The other issue is that Wolves have one of the best back lines for a mid-tier side, allowing fewer than a goal per match, and that includes a 1-1 draw against Man City back in August. Harry Kane usually gets his opportunities, but he only has three shots (none on goal) in the last two league matches. Christian Eriksen should be back in the fold full time for this one and while that helps, I'm still tentative when there are better options from Man City and Chelsea.
Gylfi Sigurdsson and Richarlison lead the differential list at home against Brighton, who have allowed 127 shots in the last six matches. Since a slow start, Sigurdsson has five goals in his last six, thanks in part to penalties, and even though he doesn't have an assist in that period, he still had 19 chances created. Richarlison is more of a differential at this point because his numbers have surprisingly gotten worse since becoming their no. 9, with just four shots (two on goal) and two chances created in the last three.
Jamie Vardy should be ready to roll at Cardiff, though I'm never comfortable giving him the armband on the road. Vardy is always a threat to score and Cardiff have allowed the second-most goals in the league, so if you take that route it at least makes sense. The bigger stretch is to captain someone on Huddersfield as they get the wretched Fulham back line that has allowed at least three goals in each of their last four matches.
No one stands out because it's Huddersfield, but Aaron Mooy at least gets opportunities as a set-piece taker. West Ham are in a similar boat against Burnley if Marko Arnautovic doesn't play, though chances are good he'll be ready to return from an illness, and he has 10 shots (five on goal) and four chances created in his last two starts.