This article is part of our The Armband series.
If you captained Mohamed Salah last week, I don't know what to tell you. I'm not going to recommend him above Sadio Mane until he finds his form again. Salah has zero goals in his last six starts despite Liverpool finding the back of the net 12 times in that period. Unfortunately, there aren't many other options in Gameweek 31, with just 10 teams in action.
In a normal week, I'd be tentative on backing Liverpool since they were just in Munich on Wednesday, but against Fulham, they'll be hard to pass on. The Reds were struggling away from home and then found the back of the net three times at Bayern. It also helps that Fulham have allowed multiple goals in their last five at home. Mane gets the nod for the armband with three braces in his last four starts. This is a perfect spot for Salah to rebound, but I'm still putting the guy in form above him. If you hate consistency, Roberto Firmino is always in play for a brace. I don't think Liverpool will get a clean sheet, but Trent Alexander-Arnold will probably be the best defender.
Chelsea are on the slate, but I'm not sure I can trust them at Everton, who recently held Liverpool scoreless. Chelsea are also a bit of a mystery away, and a win at Fulham doesn't take away that they were outscored 12-0 in their previous three trips. If you like the Blues, Eden Hazard and Gonzalo Higuain are the guys with Hazard getting a slight bump due to assist possibilities.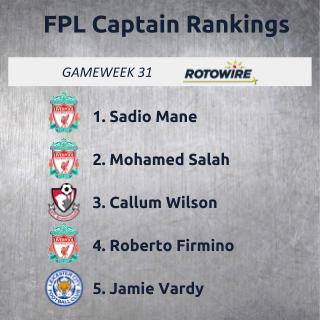 I'm actually a little higher on Bournemouth, who have 26 goals at home, one more than Tottenham. It helps that Callum Wilson returned last weekend after almost two months off and managed a goal and an assist. He has a goal in each of his last three starts and should be a viable captain because of that. Ryan Fraser is also in the mix, and his numbers seem to pop whenever Wilson is in the squad. Newcastle are another team with away issues, losing three of their last four, including the most recent 2-0 loss to West Ham. Some will throw Salomon Rondon or Ayoze Perez into the mix because of form, but I want no part of the Magpies away.
I'm more inclined to take a shot in the dark with a West Ham player because they host Huddersfield. The problem is that Marko Arnautovic has come off the bench in his last four appearances. The gamble would be to roll with Robert Snodgrass and hope he connects for another assist. If you're crazy, Chicharito has started five of the last six and has one shot on goal in four of those.
You could take a stab at the Burnley-Leicester match because both back lines are struggling. There have been at least three goals scored in Leicester's last five matches, while that's the case in four of Burnley's last five. I don't want to recommend Jamie Vardy away from home, but he has four goals and an assist in his last three starts so it's inevitable that he makes the rankings. James Maddison is a little harder to trust and probably isn't captain material since he rarely gets a shot on target. Burnley's best option remains Ashley Barnes, who has scored in five of his last seven starts, and while Chris Wood is viable, he has two shots on goal in his last three starts.