This article is part of our The Armband series.
Due to the international break, fantasy managers got an extra week to ponder their lineups and captain decisions. Even better is that 10 teams have double gameweeks, and Liverpool aren't one of them, meaning there will be no contemplating Sadio Mane or Mohamed Salah for the armband. Instead, the questions will likely be between anyone on Manchester City and the nine other teams with two matches.
In addition to having the most high-powered attack in the league, City also have the most favorable fixtures, away to Fulham and home against Cardiff. There's almost no reason to look at the other teams, and while there are worries if some players will start both matches, it's usually best to assume the regulars will be in the lineup. That includes Sergio Aguero, who gets an added bonus because he wasn't in Argentina's squad for their recent friendlies. The last time he came off the bench was back in January, so that's not a worry. He's had some recent down matches in league play, but had a brace in the demolition of Schalke and has the best odds to score in the entire gameweek. The only other player worth trusting may be Raheem Sterling, who has seven goals in his last five starts. He's come off the bench a couple times in the last two months, but he's more likely to start both than any other City midfielder. David Silva will likely start both, but he doesn't have the same kind of upside, while you'll be testing your luck with Leroy Sane, Bernardo Silva or Riyad Mahrez. Kyle Walker may be just as easy to trust as a couple of those midfielders since a clean sheet is more than possible in both matches, and he's most likely of the defenders to start both, though Aymeric Laporte is healthy again. The matchups can't get any better as Fulham have allowed 30 goals at home and Cardiff have allowed 26 away. At least one clean sheet should be guaranteed since Cardiff have scored just nine goals in 14 away matches.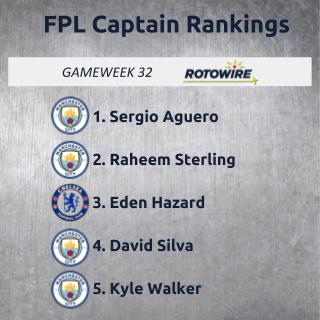 Chelsea have a similarly favorable schedule at Cardiff and versus Brighton, but their players aren't as easy to trust for the armband as Aguero and Sterling. It only depends on if you want to back Hazard, who has 13 goals and 11 assists this season, though he has also gone long patches of not producing. The bonus is that he totaled four goals and an assist in previous meetings against Cardiff and Brighton. Gonzalo Higuain is more of the upside play, with a couple braces the ideal result. The problem is that he has one goal in his last five starts, even if some of that can be blamed on the schedule. Similar to City, a clean sheet or two is possible, with Cesar Azpilicueta and Antonio Rudiger the likeliest to start both fixtures.
Even with those favorable matchups, there are other places to go if you don't want to follow the masses. Manchester United could prove fruitful at home against Watford and away to Wolves. Those aren't enticing matches, but there's no reason Romelu Lukaku can't score a brace against Watford and Paul Pogba can't rack up three assists along the way. Sure, that may be the best possible outcome, but Watford's back line has been prone to conceding goals, including eight in their last two trips to Liverpool and Man City. If Lukaku isn't ready to return, that means Marcus Rashford could be back in the picture.
The same argument could be made for Watford because even though they travel to Old Trafford, they also host Fulham. It wasn't long ago that Troy Deeney and Gerard Deulofeu combined for five goals against Cardiff. Spurs are barely in consideration since they go to Anfield in their first match, and they aren't playing well so home against Crystal Palace may not produce much for Harry Kane anyway.
Giving the armband to Raul Jimenez or Wilfried Zaha is for extreme measures only or if you have inside information. Both could easily go scoreless, but Zaha faces Huddersfield and Jimenez takes on a Burnley back line that's allowed 11 goals in its last four matches. There are arguments for captaining players not from Man City or Chelsea, but those arguments could last a day or two. City are primed to score up to six goals, with Chelsea a couple below only because they're more inconsistent.