This article is part of our Fantasy Premier League Rankings series.
The (likely) final double gameweek of the Premier League season is behind us, and with just three weeks to go, time is running out to make some big moves. Winning the league's official fantasy game is a pipe dream for almost everyone, but many are still competing for mini-league titles or top one percent goals to make us feel better even though there are likely a staggering number of dead teams among the 6,307,399 current entries.
I am of the opinion that there is no discernible difference between finishing 101,178th or 202,356th or 404,712th, so why not get a little nuts with only three weeks left? Do you really love Liverpool's home match against Huddersfield this week? Instead of captaining Mohamed Salah, why not triple captain Trent Alexander-Arnold? Man City playing away to Burnley leaves plenty of options, but instead of going with guys like Sergio Aguero or Raheem Sterling, why not a triple captain of David Silva or even Bernardo Silva? It's time to think way outside the box, and if you have chips left, it's time to push them (well, one) onto the table.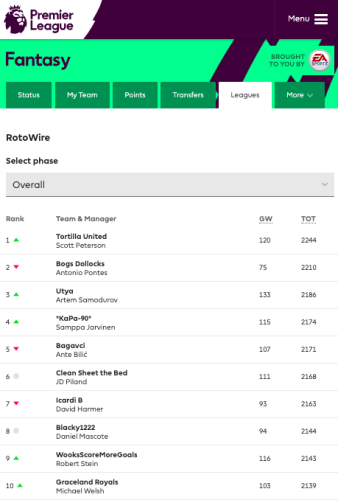 We also have a pretty good race to the top of the RotoWire league in the Prem's official game, with Scott Peterson's Tortilla United (great name, by the way) topping the table through 35 gameweeks. Not only is Scott leading the very prestigious RotoWire group, he also he sits 1,593rd overall, a remarkable achievement for someone who has already had a number of great finishes, landing in the top 60,000 in seven of the last eight years, including a best 7,705th during the 2011/12 season. As someone who hasn't played the game nearly as long (I didn't know a thing about soccer until 2013 - a story for another time), I am in awe of how well Scott has done over a fairly long period. I can appreciate the feelings of those who find the game's lack of flexibility frustrating, but being able to have that much success over a prolonged time should be applauded. So, here's to you, Scott! Good luck the rest of the way!