This article is part of our Team Previews series.
Cincinnati Bengals

The Bengals' massive overhaul began in earnest this offseason, with the team spending an unprecedented amount of money in free agency compared to years past. But with so many holes to fill, this is a multi-year project, so expect more growing pains in 2020 as the Joe Burrow Era begins.
Offseason Moves
Key Acquisitions
The No. 1 overall pick has plenty of targets, but what about his blockers?
Signed to a lucrative deal to improve the team's run defense.
The Bengals paid big (three years, $42 million) to upgrade over Dre Kirkpatrick.
His big leap could be in 2021 if A.J. Green and John Ross leave.
Key Losses
In typical Bengals fashion, they got nothing for the veteran QB.
The oft-injured tight end gets to reunite with Jay Gruden in Jacksonville.
Logged high tackle numbers but really struggled in coverage.
Was directly replaced at defensive tackle by Reader.
A Look Under the Hood
Head Coach: Zac Taylor (Year 2)
Offensive Coordinator: Brian Callahan (Year 2) - West Coast (wide/outside zone)
Defensive Coordinator: Lou Anarumo (Year 2) - 4-3 scheme
2020 Vegas Projected Wins: 5 (31st)
2019 Record: 2-14
2019 Points Scored: 279 (30th)
2019 Points Allowed: 420 (25th)
2019 Point Differential: -141 (30th)
2019 Run-Play Rate: 36.7 percent (28th)
2019 Situation-Neutral Pace: 29.25 seconds per play (7th)
2019 Offensive Snaps: 1,049 (9th)
2019 PFF O-Line Ranking: No. 30
Projected 2020 Depth Chart
QB: Joe Burrow / Ryan Finley
RB: Joe Mixon / Giovani Bernard / Trayveon Williams / Rodney Anderson / Samaje Perine
WR1: A.J. Green / Auden Tate
WR2: Tyler Boyd / Alex Erickson
WR3: Tee Higgins / John Ross
TE: C.J. Uzomah / Drew Sample / Cethan Carter
O-Line: LT Jonah Williams / LG Michael Jordan / C Trey Hopkins / RG Xavier Su'a-Filo / RT Bobby Hart (RotoWire Rank: No. 30)
Kicker: Randy Bullock
Top Storylines
A New Era at Quarterback Begins
The Red Rifle has been silenced, and there's a new sheriff in town for the Bengals in rookie quarterback Joe Burrow. Let's first appreciate Andy Dalton's career with the Bengals. As a rookie thrust into the starting role by Carson Palmer's refusal to play, Dalton helped lead the 2011 Bengals, a team expected to be among the dregs of the NFL, into the playoffs.
In his nine years with the team, Dalton had a 70-61-2 regular-season record and is the Bengals all-time leader in completions and touchdown passes. And yet … it was time for a change. Dalton infamously never won a playoff game (though he was robbed of his best chance in 2015 by a thumb injury), was scheduled to make $17. 7 million and will be 32 entering the 2020 season.
Exit stage left for Dalton, enter this year's top overall pick in Burrow. Burrow was the obvious choice in that slot, coming off of a national championship season where he threw for a whopping 5,671 yards and 60 touchdowns. Burrow has good vision, leadership and mobility, though there are questions about his arm strength.
Like Dalton, he'll start immediately for a Bengals team that will provide him four interesting wide receiver options in A.J. Green, Tyler Boyd, John Ross and second-round pick Tee Higgins. A concern could be his offensive line, which was not significantly addressed in the offseason.
It's Not Easy Being Green
Between a toe injury that ruined his 2018 season and last year's ankle ligament injury, A.J. Green has missed 23 of the last 24 games. Thus, it wouldn't have been surprising if the Bengals simply cut their losses and moved on, but instead they applied their franchise tag to Green for the 2020 season and will pay him $18.5 million.
It's clear that the Bengals view Green as essential for promoting the development of Joe Burrow, not to mention rookie wide receiver Tee Higgins. The big questions for the veteran wideout are whether he can remain healthy, and what does he have left in the tank?
When we last saw Green play in 2018, he was averaging 15.1 yards per reception and 9.0 yards per target, both healthy metrics, but he didn't have a single reception over 40 yards. Had he already lost a step, or was that more of a function of poor offensive line play (not allowing for long plays to develop) and/or quarterback Andy Dalton losing arm strength?
We may not know the answer to the 2018 question, but age undoubtedly will be part of the narrative this year, as Green turns 32 at the end of July. The guess here is that if healthy, Green will still be the No. 1 target ahead of Tyler Boyd, John Ross and Higgins, as he's being paid as a top wideout. Green and Boyd are currently being drafted next to each other as fantasy WR3s.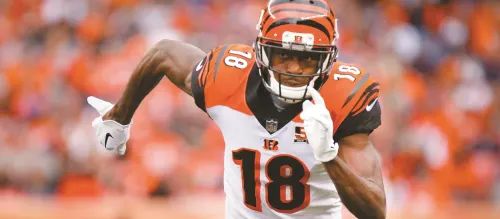 Getting A.J. Green back to health will be key for Joe Burrow's rookie campaign.
Rome Wasn't Built in a Day
Nearly every season we've written the Bengals preview, we've struggled to find multiple "key acquisitions" that have arrived via free agency. Under owner/GM Mike Brown's stewardship, the Bengals have made a point of infrequently investing in the free agency, especially at the top end.
More often their preferred path has been to add post-peak veterans or sign players that would fill complementary roles. The returns on those investments have been mixed - for each modest success like Cedric Benson or Terrell Owens, there were just as many failures like James Harrison.
But the 2020 offseason represented a massive change in philosophy. The Bengals invested big on defense, first signing DT D.J. Reader to a four-year, $53-million deal in order shore up a league-worst run defense that allowed 148.9 yards per game on 4.7 yards per carry.
They followed that by swapping out Dre Kirkpatrick and Darqueze Dennard for former Vikings corners Trae Waynes and Mackensie Alexander, and they later added safety Vonn Bell from the Saints.
The linebacking corps remains a question mark – while Josh Bynes gives them some experience, they'll be relying on second-year player Germaine Pratt and three rookies in Logan Wilson, Akeem Davis-Gaither and Markus Bailey to step up. This was a 2-14 roster, so it will take another wave of signings to become competitive.
Barometer
⬆️ Rising: RB Joe Mixon
Though a potential contract holdout looms, Mixon is a first-round talent with a likely improved offensive line. Mixon's per game workload (22.1 carries) and output (4.6 YPC) improved in the second half.
⬇️ Falling: WR John Ross
The Bengals gave Ross two votes of no-confidence, declining to pick up his fifth-year option and drafting Tee Higgins with the 33rd pick. Add in Auden Tate, and it's possible Ross could fall to fifth of the depth chart.
😴 Sleeper: RB Giovani Bernard
Bernard was a big disappointment in 2019, both in volume and performance. But he's listed here because Mixon is a potential holdout and because the Bengals didn't meaningfully address running back this offseason.
🌟 Pivotal Player: A.J. Green
Though they didn't know it at the time, Green's 2019 season ended on the first day of training camp when he tore ankle ligaments on the awful University of Dayton turf. He's in his walk year with the Bengals while they're starting a new era at quarterback with Joe Burrow, but they've consistently been a better team with him on the field.