This article is part of our The Armband series.
Last week showed that while backing a team with two matches is usually the best way to go at captain, finding a gem who can come close with only one game isn't impossible. Of course, it's often a gem that no one can find. Sebastian Blanco and Michael Mancienne were the two players right behind David Villa in Week 28, and no one captained either. Diego Valeri was my only consideration with one match, and he was still behind the top NYC players, as well as a couple defenders.
That leads to Week 29 and two teams with two matches. D.C. United is the best place to turn as they host Minnesota on Wednesday and then New York Red Bulls on Sunday, while the Loons have another road match at Salt Lake on Saturday. Sure, there may be a random defender (a la Mancienne) who gets a clean sheet and scores, but no one is captaining him. That's why D.C. is the best place to go for the armband this week. It helps that Minnesota are tied with a league-high 35 goals allowed in road matches, and that's led to a 1-1-11 record. Throw in United's recent run that includes a home win over Atlanta, 1-1 draw at NYC and wins in five of the last six home matches and it's easy to back them.
Wayne Rooney will likely be on every team and captained by the majority, but I'm still backing Luciano Acosta for the armband. Since Rooney came aboard, Acosta has the goal edge (6-4), and while Rooney is around the ball more, I'm more willing to back the goal scorer over the playmaker. Both have a floor around three points and there's little separation between the two in the last five home matches, as Rooney has 47 fantasy points and Acosta 51. I prefer Acosta mainly because more people are on the Rooney train. There are other places to go for D.C., but due to the international break, I'm not considering any of them. Steve Birnbaum has been the top defender lately, yet without a clean sheet he may have trouble reaching 10 points in two matches.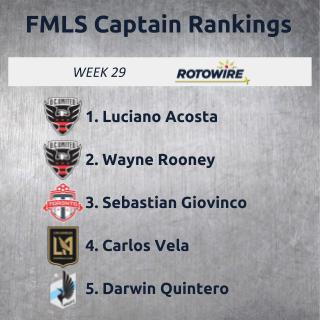 Minnesota are next and I'm tentative because of their sketchy road record, having failed to score in three of their last five away from home. Throw in trips to D.C. and Utah in a few days and it's hard to fully commit to them, especially for captain. The other problem is that Darwin Quintero hasn't played since August 12. He's said to be fully fit, but I'm not betting on him to start and play 90 minutes in two road matches in four days. Ibson and Miguel Ibarra probably have the highest floors of any of them at around four points, and while getting eight points is nice, I'd consider some single-match players instead of Minnesota if you're not a D.C. fan.
The main teams to look at are Atlanta (at COL), Toronto (v. LAG), LA FC (v. NE) and Salt Lake against what is expected to be a tired Minnesota team. Josef Martinez finally didn't score last match, but I'd put money on him to change that against the Rapids. For those doubting Martinez on the road (why?), Colorado has given up 25 goals in 14 home matches, including six in their last performance aided by a couple red cards.
Sebastian Giovinco and Carlos Vela are a little safer at home, with Giovinco getting the nod against a Galaxy team that has been destroyed 11-2 in their last two road matches. Giovinco should be rested for this one and has at least nine fantasy points in his last four home starts. In a must-win situation against a struggling team, Giovinco is a better play than anyone on Minnesota.
Carlos Vela is only slightly behind because there have been just six goals in New England's last four matches, including a 1-0 win at NYC. Vela could easily go off for a brace, though I'm still tentative. He's hit 10 fantasy points in each of the last two matches, but that hasn't been a common occurrence since the World Cup.
Real Salt Lake could end up winning by six goals again if the Loons are tired on the second leg of their trip, and that leads to Joao Plata, who has five goals and an assist in his last three appearances. He's a pure differential captain, and while Albert Rusnak has less upside, he is more likely to reach eight or nine fantasy points.