This article is part of our The Armband series.
Prior to the international break, I took up a new strategy of captaining defenders ahead of top scorers playing away, and for the most part it worked. Marcos Alonso again assisted and reached nine fantasy points, while Benjamin Mendy assisted without a clean sheet and had five points. Mohamed Salah and Harry Kane only had two fantasy points each, and my top option Sergio Aguero finished with six. Sure, Eden Hazard, Sadio Mane and Romelu Lukaku were slightly better, along with a few others, but it's not like those guys have produced in every favorable match (Hazard excluded).
That's why I'm backing Alonso and Mendy for the armband in Gameweek 5 with home matches against Cardiff and Fulham, respectively. The edge goes to Alonso with a better chance for a clean sheet against a Cardiff side that hasn't scored in two away matches. Alonso can't be stopped in FPL, already with one goal, five assists and nine bonus points through four matches. Mendy isn't far behind, but I can envision Man City allowing a goal to Aleksandar Mitrovic when they're up 3-0. If City had one or two more clean sheets, Mendy would have closer to Alonso's 44 fantasy points, and even without them Mendy has two more points than Aguero.
Of course, I'm not completely shying away from Hazard and Aguero. Hazard has made the score sheet in every appearance, including two off the bench. He's picked up where he left in the World Cup and has seven shots and six chances created in his first two starts. Cardiff surprisingly haven't been terrible in the back by allowing five goals, though three came against Bournemouth, Newcastle and Huddersfield, and they most recently gave up three goals at home to Arsenal.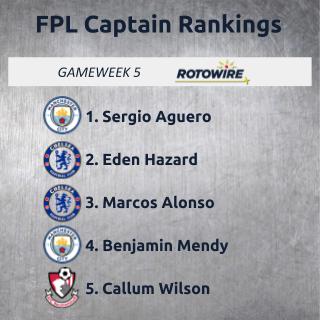 As for Aguero and City, they get a Fulham back line that's allowed 28 shots on goal and a league-high 95 crosses, which is another bonus for Mendy. That's also good news for Aguero, who has been solid even if he only scored in one match. He disappointingly didn't get a shot on target against Newcastle, yet still has 20 shots and 10 chances created in four matches. The opportunities will continue to come for Aguero, and he's easier to trust than anyone in the squad (outside of Mendy), especially with a couple others dealing with minor injuries. If you like Man City and want to fade Aguero, Raheem Sterling (back) is next up with two shots on goal and three chances created in the last two matches.
Spurs host Liverpool in the first match of Gameweek 5, but I'm avoiding both Kane and Salah. With both Chelsea and City in favorable spots, there's little reason to stretch in others. Arsenal (at Newcastle) and Man United (at Watford) have better matchups, but no one should trust the Red Devils away from home. As for the Gunners, Newcastle have had a brutal opening schedule and still only allowed six goals, so I'd be wary in this spot. Making it more difficult is that both Alexandre Lacazette and Pierre-Emerick Aubameyang started last match, so deciding on a captain between those two is another issue.
For the differential crowd, Callum Wilson deserves a look at home against Leicester. He slowed down due to a couple difficult matches, but this is a spot where he should get close to five shots with a couple on goal. That said, Wolves and Everton are in more favorable positions against Burnley and West Ham, respectively. Raul Jimenez is probably the best route for Wolverhampton as he has at least three shots against everyone but Man City. Cenk Tosun is in that same boat for the Toffees, though he still hasn't scored a goal. I'd throw Gylfi Sigurdsson into the mix, but it's worrying he only has two shots, including none on goal.