This article is part of our The Armband series.
Last week went as expected, with Wayne Rooney and Luciano Acosta on the majority of teams due to having two home matches. I went with Acosta as my top captain and it surprisingly came to fruition with 25 fantasy points. That being the case, it may be best to fade my rankings this week, as correctly picking the top player in back-to-back weeks is almost impossible.
There are six teams with doubles in Week 30 and, more importantly, Atlanta, Portland and Seattle are three of them. With all three having one home and one away, it's best to look at the matchups first. The Timbers (v. CLB, at MIN) have two winnable games, yet they may be the least desirable due to poor performances, most recently losing 4-1 at Houston. Atlanta (at SJ, v. RSL) have great matchups and stayed out west after beating Colorado 3-0 on Saturday. The Earthquakes just lost 5-1 at home, though Salt Lake are one of the most in-form teams in the league with 10 points from their last four. Of course, the Sounders (v. PHI, at LAG) are the most in form with nine straight wins. The Union were at home over the weekend and have a long midweek trip to Seattle, while the Galaxy have given up 17 goals in their last four matches.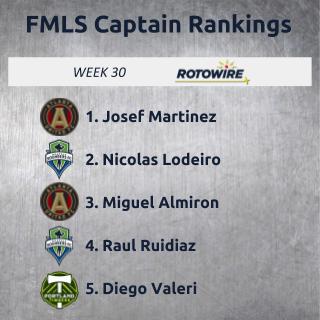 Because of that schedule, I'm starting with Seattle and Nicolas Lodeiro. The Uruguayan hasn't surpassed eight fantasy points in his last three starts, yet there's a reason he costs more than everyone else in MLS Fantasy. He's almost guaranteed to hit 10 fantasy points through chances created and corners, and if he makes the score sheet a couple times, 20 points is easily attainable. Raul Ruidiaz should also get plenty of consideration after scoring four goals in his last four starts, though as a goal poacher up front his floor isn't as high as Lodeiro's. The Sounders also have some worthy defenders like Kim Kee-Hee, but this isn't a week to captain one of them.
Miguel Almiron and Josef Martinez are on the same level as Lodeiro and could be owned by more people because they are both cheaper. Martinez has cooled off and, like Lodeiro, hasn't topped seven fantasy points in his last three starts. Then again, he always has a chance for a hat trick, making his upside hard to ignore. Almiron is often a safer pick because of a higher floor and he's usually good for at least five fantasy points. He was involved in all three goals at Colorado last weekend, so it's not like he doesn't have upside, either.
Diego Valeri is slightly behind those guys because Portland have been inconsistent and Valeri didn't feature in both matches the last time they had a double gameweek. He's also surpassed six fantasy points just once in his last six starts. He's still a top midfielder to use, but with more goal upside for the Atlanta players and a higher floor for Lodeiro, Valeri is a step behind.
There are three other teams with a double, but there's no reason to captain a player from any of them. Columbus (at POR, v. CLB) could score five times against the Rapids, but their top players like Gyasi Zardes and Federico Higuain have lacked consistency. Vako is worthy of roster consideration, though San Jose's schedule (v. ATL, at LAFC) is more difficult than the others. The same goes for Philadelphia (at SEA, v. SKC), and their players are rarely in the captain conversation anyway.
If you want to aim high, Martinez is the play, but if you don't need to make a big splash in the standings, Almiron and Lodeiro may end up being the safer bets.