This article is part of our The Armband series.
To be clear, I was never serious about captaining defenders…
That route backfired in Gameweek 5 as Benjamin Mendy didn't play and Marcos Alonso wasn't involved in any of Chelsea's four goals. At the least, Sergio Aguero had two assists before coming off and Eden Hazard bagged a hat trick. It was a good week if you were smart, but if you were bold and went with a defender, it likely wasn't. That's kind of how fantasy Premier League goes.
More decisions will need to be made, with Man City having another juicy matchup, this time away to against Cardiff. Figuring out City's lineup may be even more difficult because of the midweek Champions League match against Lyon. Anyone could be at any position, but Raheem Sterling and David Silva feel like the best bets to make the starting XI. Sterling has three goals in four starts, and while Silva has two, he also has nine more chances created. Aguero could start again after coming off the bench in midweek, and the same goes for Leroy Sane.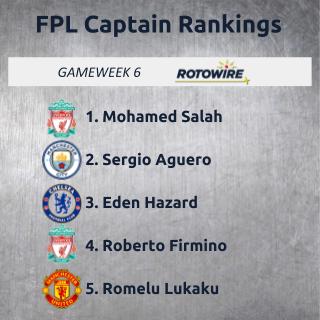 Liverpool are in the next best position at home against a Southampton team that has yet to face a top-six side. The Reds won 5-0 in two matchups last season and more good fortune should be ahead. Trent Alexander-Arnold and Andrew Robertson could be in the mix if you're feeling lucky, but the usual suspects take precedence in this team even though they put out the full squad Tuesday against PSG. Mohamed Salah hasn't scored or assisted in the last three matches, which happened once late in last year's campaign. In league play, he's still averaging a combined five shots on goal and chances created per 90 minutes so it's hard to go against him. Roberto Firmino has scored in his last three appearances and should start again after coming off the bench against PSG. Sadio Mane has slowed down since a hot start, though he is still getting multiple shots on goal and chances created every start.
Man United are at home, yet Wolves haven't been an easy squad to deal with, as seen in their 1-1 draw against Man City. Romelu Lukaku is the only one in consideration for the armband with four goals and eight shots on goal through his four starts. The main worry is that Wolverhampton have allowed just five shots on goal to forwards this season, which is a rate similar to top teams.
I'd probably look at Chelsea traveling to West Ham or Arsenal against Everton before Lukaku. At this point, there's no reason to go against Hazard, who has five goals and two assists in five appearances, scoring in all three of his starts. West Ham recently won at Everton, but it's hard to trust them considering they've lost their last two at home to Bournemouth and Wolves. Hazard will get his opportunities no matter what against weaker back lines.
Arsenal are more of the underdog play, though Everton just lost at home to the Hammers and gave up two goals in each of their away matches earlier this season. The problem is deciding between Pierre-Emerick Aubameyang and Alexandre Lacazette, who has produced two more shots on goal and five more chances created while playing as the forward in the last two matches in a 4-2-3-1 formation. Aubameyang was my pick ahead of the season, but when both are in the lineup there's no denying Lacazette has produced more.
Last, but not least, for the top-six clubs, Spurs travel to a Brighton side that's been feisty at home, yet still allowed two goals in both of those matches. Harry Kane is always in the fold for captaincy, but he's had another slow start to the season and hasn't scored in five September matches (including two with England). As a bonus, Brighton have allowed the second-most shots in the league to forwards with 32. Christian Eriksen doesn't have the same upside, but he has six shots on goal and seven chances created in his last three starts in all competitions.
The differential crowd will back everyone's favorite forward in Aleksandr Mitrovic. The Fulham front man is getting multiple shots on goal against everyone not named Manchester City and Tottenham. Watford aren't allowing much, but Mitrovic is hard to ignore given the volume he's received up front. Callum Wilson is again in the conversation because Burnley have been the worst team in the early going, with 43 shots allowed to forwards, including 20 on target. Jamie Vardy will likely sneak in a goal against Huddersfield, but James Maddison has been undeniable with four shots on goal and six chances created over the last two matches. And you could put Wilfried Zaha in the same camp, though it's hard to see him continuing this scoring rate with three goals from six shots on target.