This article is part of our The Armband series.
Given how the first month of the season went, the goal for your captain should be to hit six fantasy points. That's the situation after a weird Gameweek 6 that saw Bernardo Silva, Ilkay Gundogan and Riyad Mahrez as FPL's top scorers along with Joel Matip, Aaron Lennon and Kelechi Iheanacho. Sure, Mohamed Salah and Sergio Aguero scored, but they combined for just two of their teams' combined eight goals.
With midweek matches fully underway including the Carabao Cup, the weird results will likely continue. That's why I'm fading Man United (at West Ham) and everyone in the Chelsea-Liverpool match, at least in terms of the armband. There's no telling what will happen in those matches and that's before taking into account United's loss to Derby County.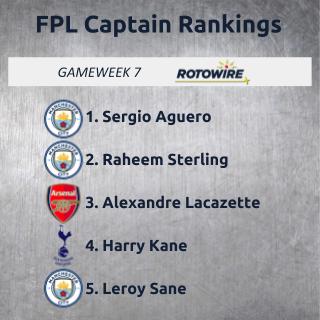 The three teams I'm looking at for captaincy are Man City (v. Brighton), Arsenal (v. Watford) and Spurs (at Huddersfield). Given the matchups and their overall quality, City are the clear option even though anyone on their roster could score and it wouldn't be a surprise. That includes whoever is on the bench. I'm sticking with Aguero, Leroy Sane and Raheem Sterling because they were all on the bench in the midweek match (Sterling played 35 minutes). You could throw Bernardo Silva into that mix, but I'm not ready to do that just yet. The worry for Aguero is playing time, as he only went 61 minutes last match, though he still finished with three shots on goal, and Sterling has been easier to trust than Sane with 10 shots and nine chances created in his last three starts. This is a good spot for another clean sheet, but without Benjamin Mendy, I don't want to captain any of the defenders.
Arsenal are at home and get a Watford side that played Tottenham on Wednesday, so this could be another bad result for the Hornets. Even better is that the Gunners have won their last six matches in all competitions. As said last week, I'm slightly favoring Alexandre Lacazette over Pierre-Emerick Aubameyang because he's doing a little more up front, which actually led to an extra bonus point against Everton. While Watford have played well to start the season, I'd bank on a goal or two for Arsenal and those forwards will undoubtedly be involved.
Spurs have another tasty away fixture after beating Brighton 2-1 last Saturday. Huddersfield have allowed a league-high 14 goals, including three at home against Chelsea, so I'm not convinced they're much better in West Yorkshire. Harry Kane has been hard to trust with the armband, but he managed a penalty last match to go with four shots on goal and three chances created. As long as he's playing, he'll be in the conversation, whereas Christian Eriksen is more useful for assists and often harder to trust as a captain.
If there were a player who stood out on Everton, a home match against Fulham is a good spot to target them. However, I'm not sure I'd give the armband to Gylfi Sigurdsson or Richarlison, though I'd put money on the latter finding the back of the net first after he had four shots against Arsenal in his return from suspension.
Wolves would be a good place to look for a differential, but they've scored three goals in their last four matches in all competitions, and even then there's no one to give the armband to unless you really like Raul Jimenez.
Bournemouth have played well at home and Callum Wilson would be on my list, but Crystal Palace haven't allowed a goal in their last three matches. Aleksandar Mitrovic is getting opportunities every match and Everton just gave up three goals at home, so he's definitely in play. Unfortunately, there aren't many other options unless you know who is going to score Cardiff's lone goal in their 1-0 win over Burnley.