This article is part of our Premier League Stats Review series.
We have a little quirk with the penalty tracker this week, as Crystal Palace's Jordan Ayew had a penalty attempt saved by Manchester United's David de Gea, but because de Gea was adjudged to have left his line before Ayew's kick, Palace were awarded a re-take. However, Wilfried Zaha took that opportunity, which he converted, leaving Ayew technically without an attempt. Given the effort was saved, it would be surprising if Ayew got a shot at the next one.
Below are two tables: the first shows all corners, free-kick crosses and free-kick shots from Gameweek 2, while the other shows penalties spanning the entire season.
If you'd like to see a week-by-week breakdown of a specific team, you can check out our Team Trends pages. You can also see each team's set-piece situation on any player page, such as this breakdown from Willian's player page:

Or, if you wanted to see all corners, for example, in the Premier League, our Stats Trends page will do that.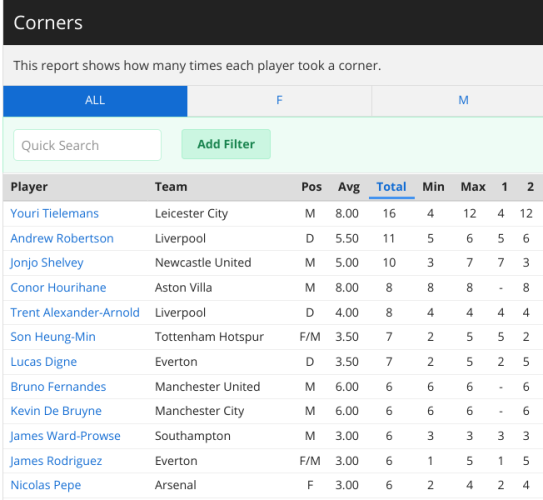 Note: all columns are sortable.
Legend: MIN = minutes, CRN = corners taken, FK CR = free-kick cross, FK S = free-kick shots
Legend: PK = penalty attempts, PKG = penalty goals, PKM = penalties missed, PKSVD = penalties saved