This article is part of our Premier League Stats Review series.
Instead of cherry picking a few teams to discuss, let's check in on all 20 Premier League teams and see what they're doing with their set pieces and penalties. In addition to the discussion, there are charts included for each team that are viewable on any RotoWire player page just below their game log, so subscribers can check in on any team's set-piece situation whenever they want.
Arsenal
Arsenal offered up some of their own quirks in their Sunday loss to Leicester City, as Willian's absence opened up their set pieces for Dani Ceballos (three) and Bukayo Saka (three), while Nicolas Pepe and Granit Xhaka each had one. Pepe also took five in their Europa League match against something called Rapid Vienna on Thursday, a match that also saw Cedric Soares (remember him?) take three and Pierre-Emerick Aubameyang one. Ceballos was their dominant set-piece taker in the second half of last season, and he seems like the most likely to take in the event Willian continues to sit out.
Aston Villa
The Aston Villa set-piece carousel continued along in Gameweek 6, as after John McGinn (five), Matt Targett (three), Jack Grealish (two) and Bertrand Traore (one) took set pieces against Leicester City in Gameweek 5, Ross Barkley equally shared the six free kicks with Grealish in their 3-0 loss to Leeds United on Friday, their first blemish of the season. If we know anything about who might be taking set pieces for Aston Villa it's that we have no idea who will be taking them on a match-by-match basis, and all we need next is for Conor Hourihane to get a start in Gameweek 7 against Southampton at Villa Park and have have a full monopoly.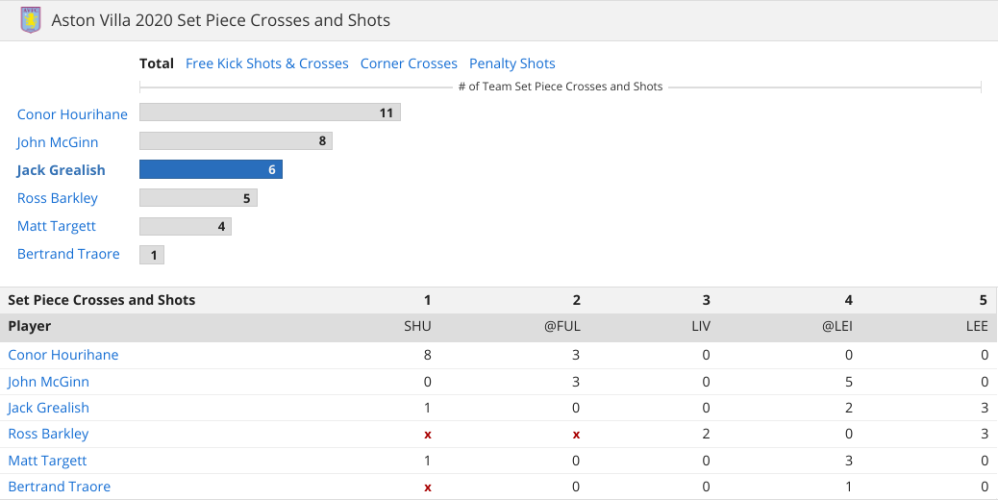 Brighton & Hove Albion
We all thought Aaron Mooy's departure would help clear up the Brighton set pieces, but that really hasn't been the case this season, as Solomon March and Leandro Trossard have gotten most of the opportunities, only to see Pascal Gross take them whenever he's on the field. Alexis Mac Allister doesn't play enough to be a real worry for those in season-long leagues, though DFS players should keep their eyes open for the Argentine because he's been successful on his corners when he starts.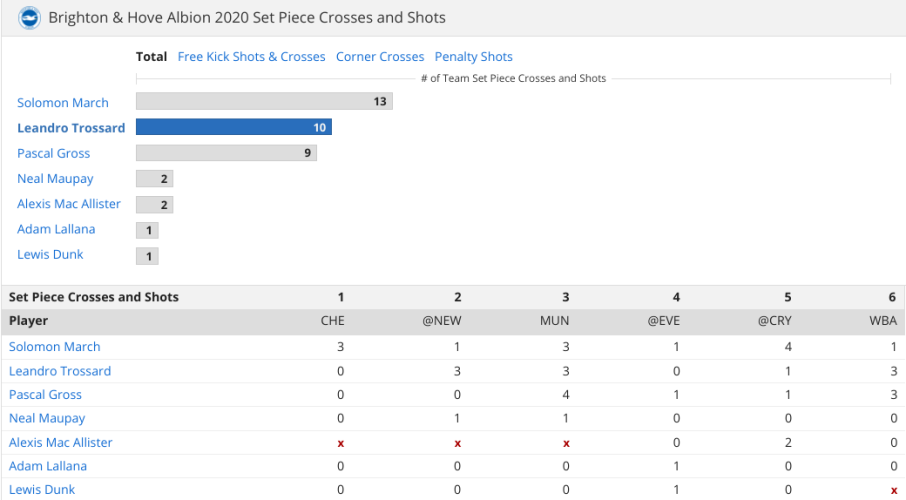 Burnley
Similar to last season, Ashley Westwood and Dwight McNeil are splitting sides and continue to take nearly all of Burnley's set pieces. The big difference between the two is that McNeil is much more of an open-play crosser, as seen by his 41 crosses this season versus Westwood's 23.

Chelsea
We also don't have the cleanest view of what Chelsea will do with Hakim Ziyech when he finally starts, though he has taken free kicks off the bench in his few appearances. Ben Chilwell has been the main dead-ball threat, with Reece James chipping in as well, but we're still waiting to see if Ziyech will take all he can or split with Chilwell, which seems more likely than Chilwell losing all of his opportunities.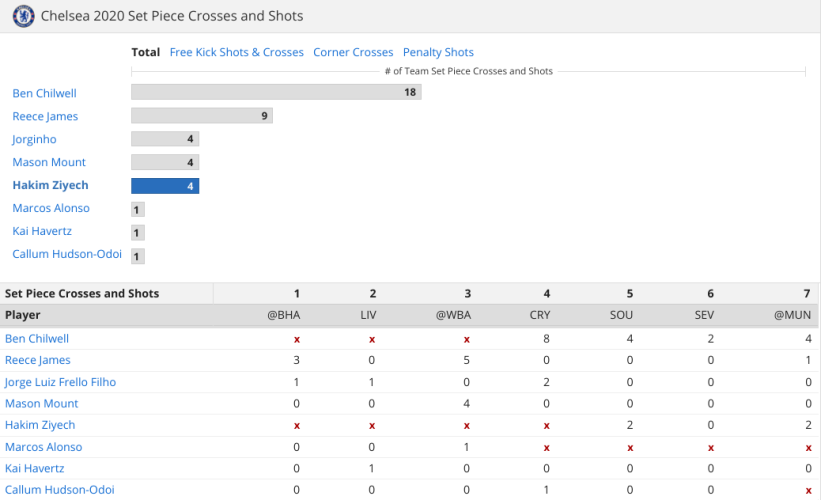 Crystal Palace
The return of Luka Milivojevic to the starting XI also saw him retake most set pieces, which put a damper on Andros Townsend's day against Fulham. It was Milivojevic's first start of the season, but Palace won 2-1 so maybe he keeps his spot, at least for a little bit.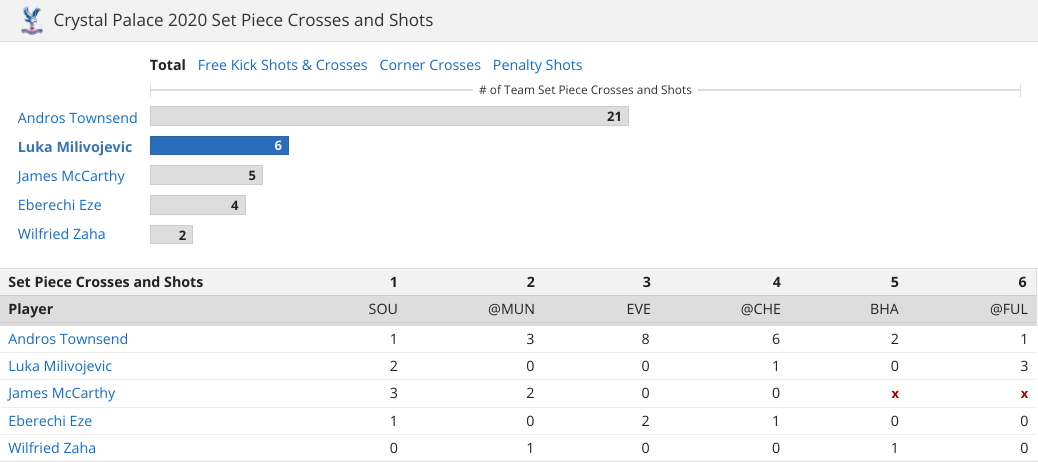 Everton
And speaking of returning to fantasy relevance, Gylfi Sigurdsson started in place Andre Gomes and took four of Everton's six set pieces even though James Rodriguez (one) and Lucas Digne (one) started with him. Sigurdsson is mostly useless without those opportunities, but it might be more the detriment to James that fantasy players should worry about. Gomes is a pretty regular starter, so it would be a surprise if Sigurdsson held onto the starting spot, though with Richarlison suspended for two more games, theoretically there's an attacking spot available, one that Alex Iwobi filled this past weekend.
Fulham
It seems as if Joe Bryan's days as a starting left-back for Fulham may be over thanks to Antonee Robinson, which has left almost every set piece to Tom Cairney, who actually took plenty of them last season too. Ivan Cavaleiro is theoretically around to poach a few as well, but Cairney is the guy right now.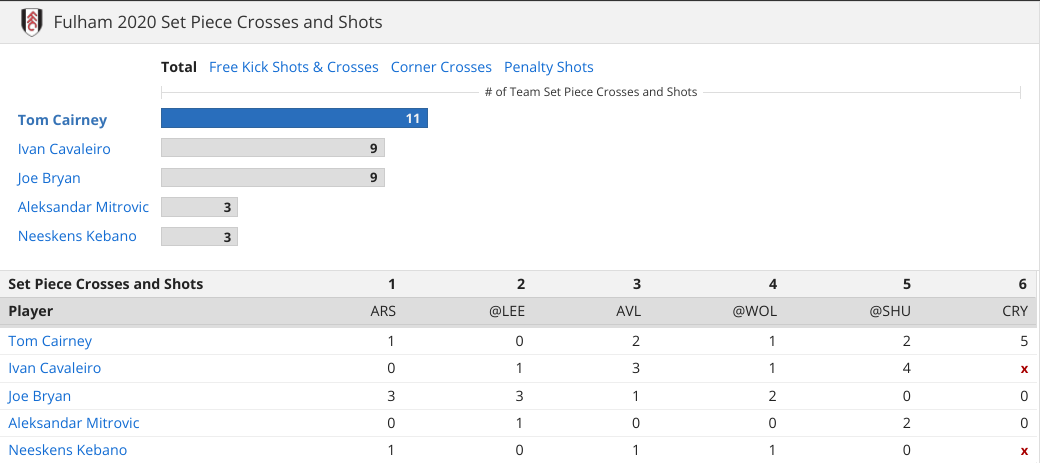 Leeds United
The big question for Leeds was going to be who took over on set pieces with Kalvin Phillips out injured, and we got a pretty clear answer in their first match without him: Mateusz Klich, who took four of five dead balls and grabbed an assist in their 3-0 win over Aston Villa. Klitch has now taken five corners this season, which is one more than he had all of last season, but he seems to be the guy after our huge sample of one game.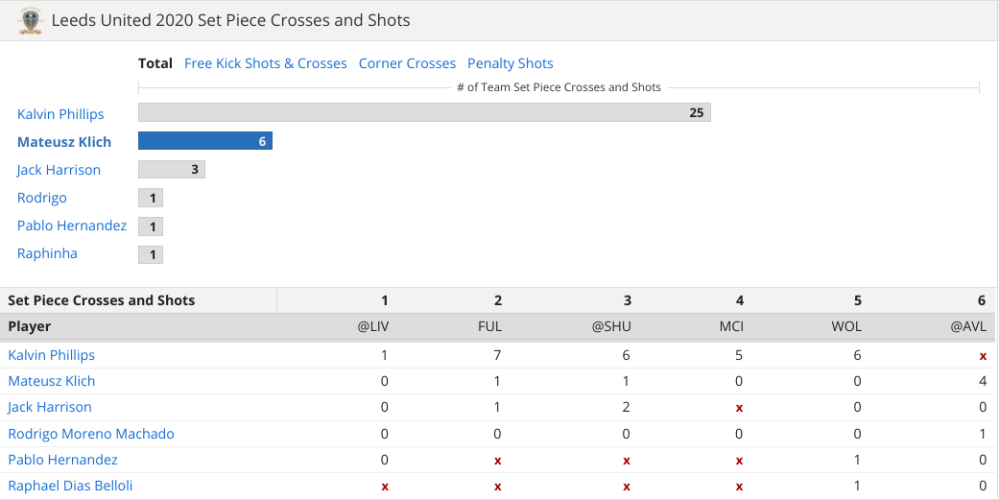 Leicester City
James Maddison's return to the starting XI also got him his set pieces back, a move that significantly hits the fantasy value of Youri Tielemans, who has now gone two straight games without a single set piece. That was the situation last season, and while there may have been some optimism that Tielemans could hold onto a few of those set pieces, the early returns show the opposite.

Liverpool
It's Andrew Robertson and Trent Alexander-Arnold. Don't overthink this.
Okay, maybe we should think a little bit more, if only because there has already been talk of them being rested at points because they can't play every single game in a season with a very condensed schedule across multiple competitions. Xherdan Shaqiri was a recent addition to the set-piece party, and he presumably would be in position to take if Roberstson or Alexander-Arnold are out (then again, he took when they were on). James Milner is always an option, as is Mohamed Salah, but Robertson and Alexander-Arnold will continue to dominate the set-piece opportunities.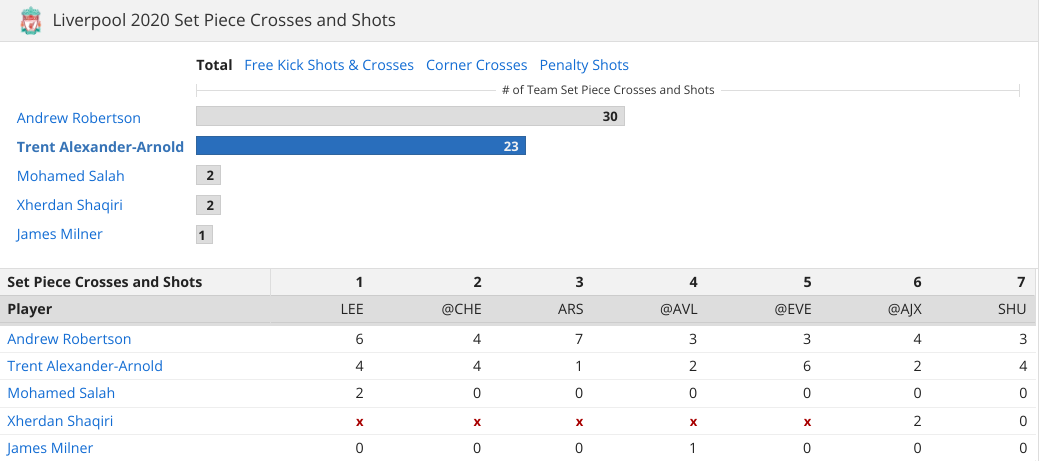 Manchester City
Kevin De Bruyne is the guy when he's on, with Riyad Mahrez also getting some opportunities. We've also seen Ilkay Gundogan chip in during De Bruyne's recent injury absence, but those figure to go away when De Bruyne is back in the starting XI.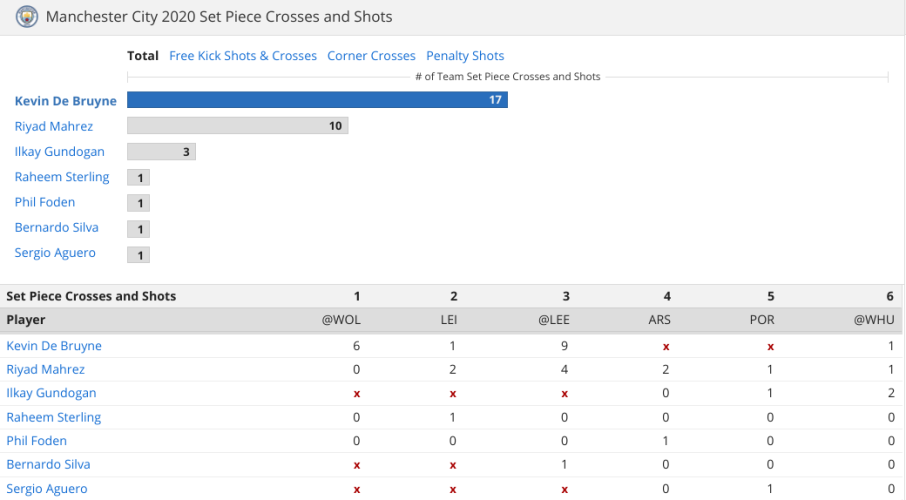 Manchester United
The Bruno Fernandes set-piece monopoly appears to be over thanks to the recent addition of...checks notes...Juan Mata (???) to the starting XI. We also saw Alex Telles get his first opportunities in last week's win over Paris Saint-Germain, and I'll admit I was under the impression Fernandes and Telles would split when they both started. But Mata? Can't say I saw that coming. Mata has benefited from Anthony Martial's Premier League suspension, and it seems pretty unlikely that he'll keep the spot when Martial returns, but until then, a few set pieces here and there certainly don't hurt, unless you have Fernandes on your fantasy team(s).

Newcastle United
Jonjo Shelvey recently underwent hernia surgery that will keep him out until after the upcoming international break, and with Matt Ritchie still out because of a dislocated shoulder, Ryan Fraser, who took many set pieces for Bournemouth during his time there, seems primed for a majority of Newcastle's corners and free kicks.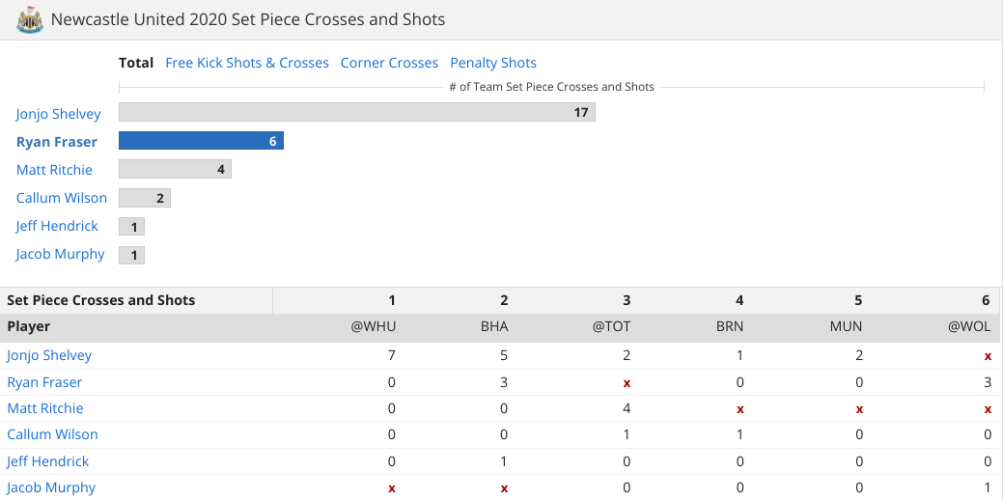 Sheffield United
The Sheffield United set pieces are hardly consistent, as John Lundstram, Oliver Norwood, John Fleck and Ben Osborn have all led the team in free kicks at some point this season. Additionally, we saw Sander Berge take, and convert, a penalty against Liverpool this past weekend, which came without their assumed top three penalty takers (Oliver Norwood, Billy Sharp and David McGoldrick) on the pitch. Norwood seems to take most of the free kicks when he's on the pitch, but when he's not then Lundstram appears to be the guy, followed by Osborn.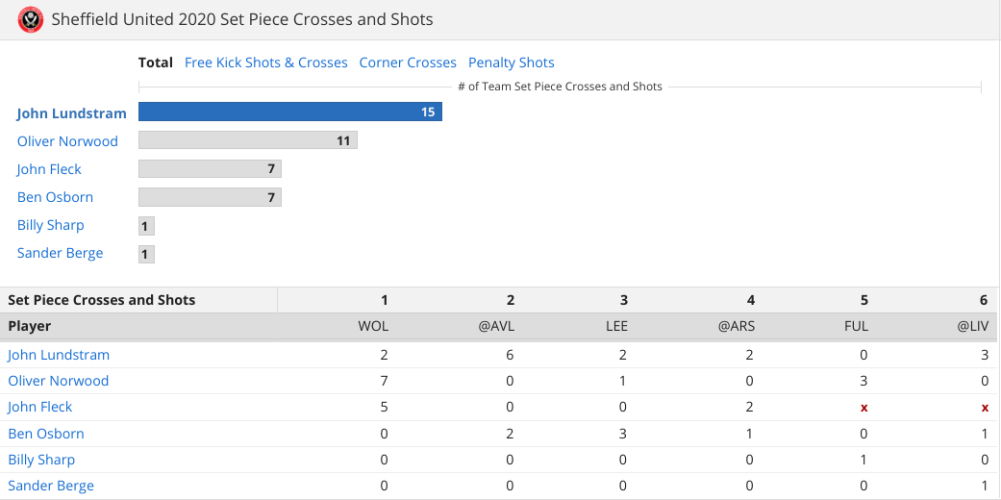 Southampton
James Ward-Prowse with a sprinkling of Ryan Bertrand. That's it.

Tottenham Hotspur
Nine different players have taken at least one set piece for Jose Mourinho this season, though Son Heung-Min has been the most consistent of all. It does seem that Erik Lamela, and to a lesser extent Giovani Lo Celso, will get opportunities when they're on, but Son has the perfect combination of standing over dead balls and actually being on the field often. Things could change when Gareth Bale is fully up to speed, but they could simply split chances when they occur.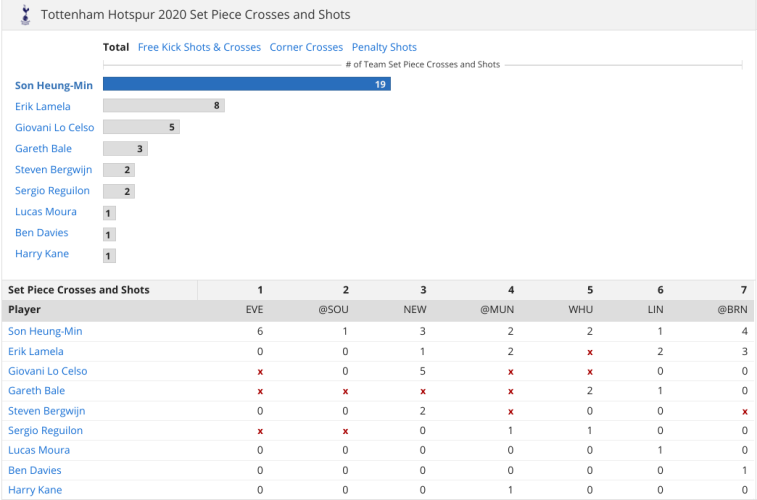 West Bromwich Albion
Want to see what a near set-piece monopoly looks like? Here you go:

West Ham United
In what may be one of the most interesting set-piece situations in the Premier League, Aaron Cresswell is the dead-ball leader for West Ham despite starting five of six games at center-back. Granted, he's the left side of a three-man back line, but rarely do we see center-backs take set pieces. Thankfully, those opportunities are giving us the left-back stats we all thought we were getting him when we selected Cresswell on our teams before the season started.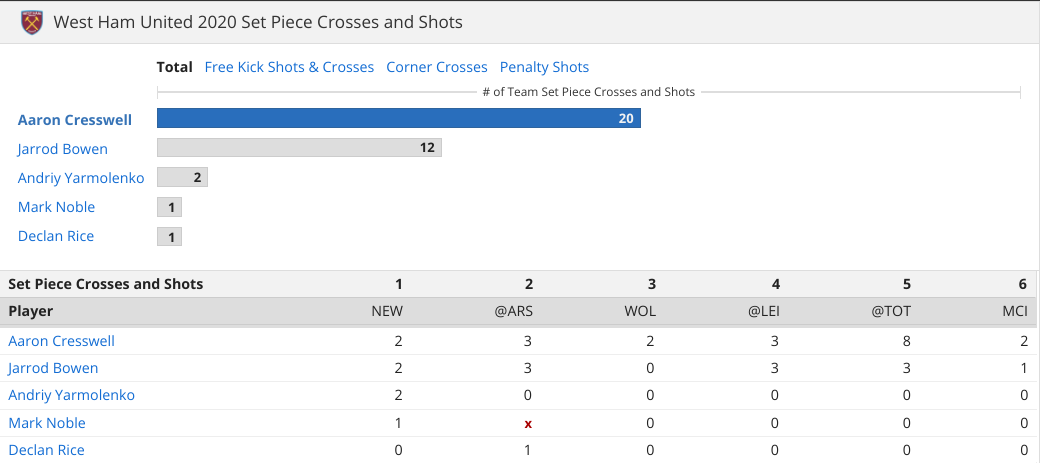 Wolverhampton
Joao Moutinho's dominance as Wolves' set-piece taker is gone, though much of that has to do with the fact he's not starting as consistently as he used to. Instead, we get Pedro Neto, who has the versatility to play in the midfield inside the wingbacks or in the attacking three, giving him more paths to playing time and, therefore, more set pieces.

The author(s) of this article may play in daily fantasy contests including – but not limited to – games that they have provided recommendations or advice on in this article. In the course of playing in these games using their personal accounts, it's possible that they will use players in their lineups or other strategies that differ from the recommendations they have provided above. The recommendations in this article do not necessarily reflect the views of RotoWire. Andrew M. Laird plays in daily fantasy contests using the following accounts: FanDuel: kingmorland, DraftKings: andrewmlaird, Yahoo: Lairdinho.