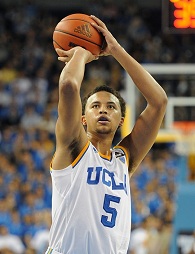 At RotoWire, we have staff writers dedicated to covering fantasy college basketball and we keep our information up-to-date throughout the year. It's our goal to make sure you have the advice and tools to win. Dive deep into our 2017 fantasy college basketball draft kit today and coast to victory.
Check out our top-150 fantasy rankings for the 2017 college basketball season.
Check out the top guards, forwards and centers for the 2017 season.
Three freshman are off the board in this year's power conference mock draft. Can they really account for the same output as established upperclassmen?
Check out our comprehensive projections for all power conference teams.
Check out our projected depth charts for power conferences and many more.
We update our news page constantly with the latest updates on the college basketball players you care about.
Latest Fantasy College Basketball Articles
Coaching Carousel: Part 2

Perry Missner analyzes the most important coaching changes for the 2018-19 season. Can Lorenzo Romar turn around Pepperdine in his second stint in Malibu?

Coaching Carousel: Part 1

Before looking ahead to impact fantasy players, Perry Missner details the coaching and scheme changes worth getting familiar with before the 2018-19 college basketball season.

Freshman Haze: The Final Countdown

It comes as little surprise that Trae Young is the best fantasy freshman in the country, despite the recent slump. See who else made the list as Perry Missner Wraps up his annual countdown.

NCAA Tournament Primer: Consensus Team Rankings

When combining all the most popular team evaluation methods, Mikal Bridges and Villanova check in as the odds-on favorites to win it all this year. Evaluating a particular matchup? See how the teams stack up.